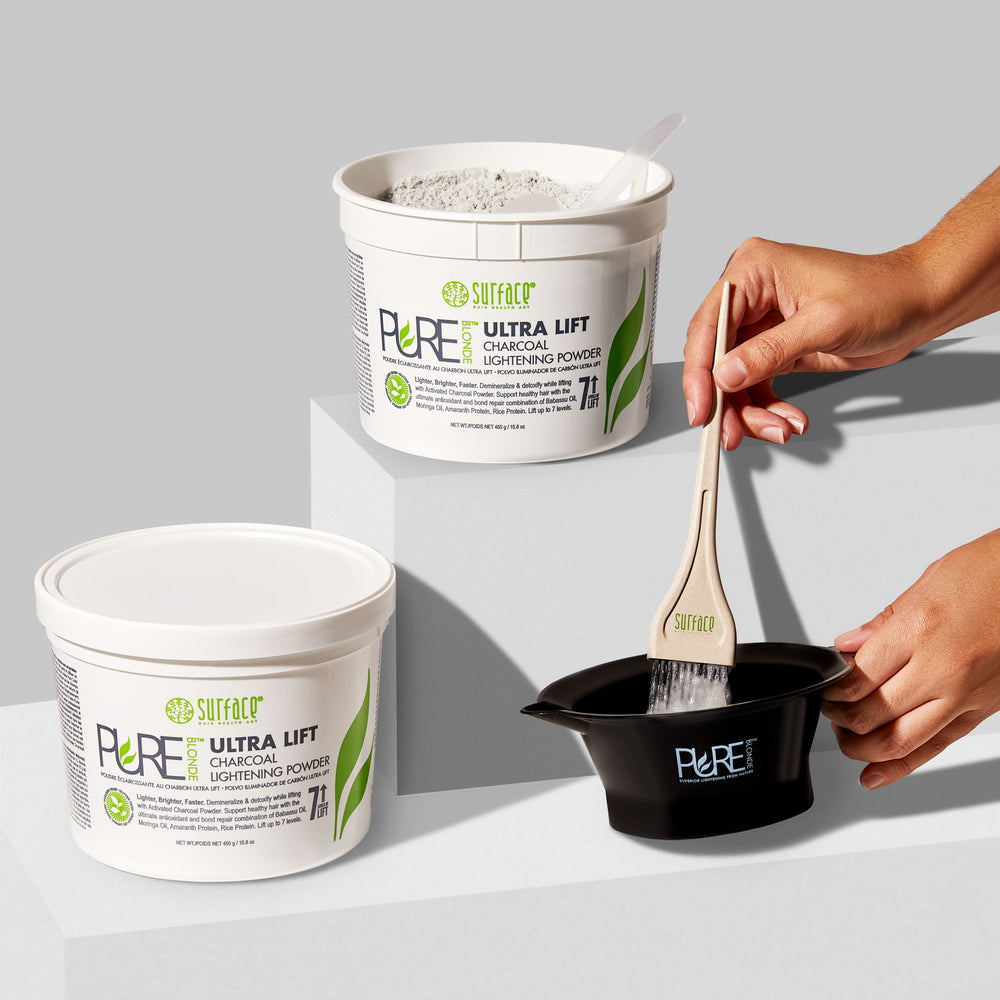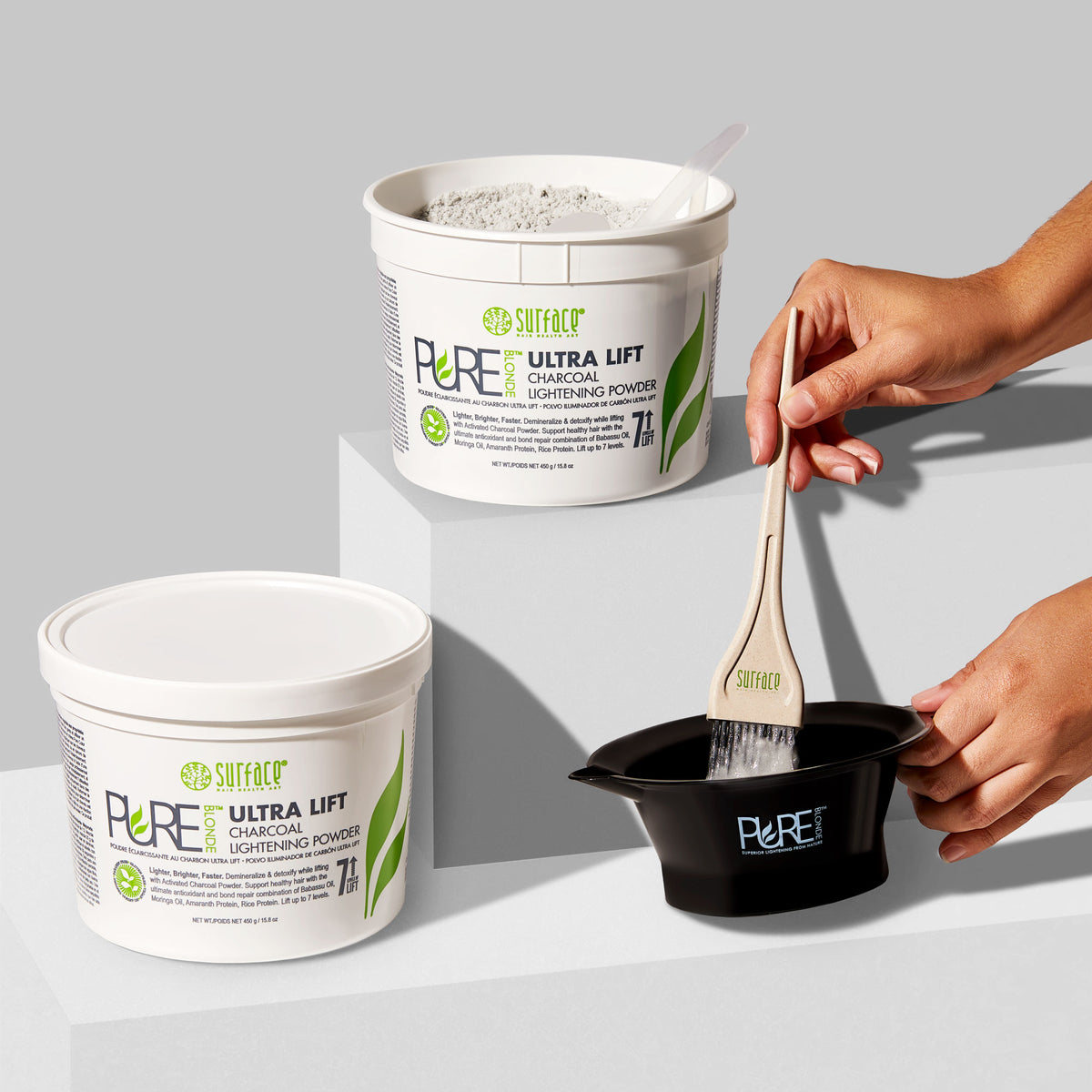 pure blonde
ultra lift

charcoal lightening powder

Pure Blonde Ultra Lift powder with built-in bond repair supports healthy hair with the ultimate antioxidant combination of Amaranth Protein, Babassu and Moringa Oil. Pure Blonde Ultra Lift is a low ammonia formula with activated charcoal that binds toxins to itself clearing free radicals and unwanted minerals from the hair while controlling underlying pigments for a lighter and healthier blonde.
Control Underlying Pigments and Reduce Toxins

Lift hair up to 7 levels, lighter, brighter, faster, while controlling underlying pigments and reducing toxins. Traditional lighteners leave toxins and harsh chemicals behind in the hair, causing further damage and dulling of the hair. Pure Blonde Ultra Lift uses Activated Charcoal Powder to reduce toxins for a healthier blonde.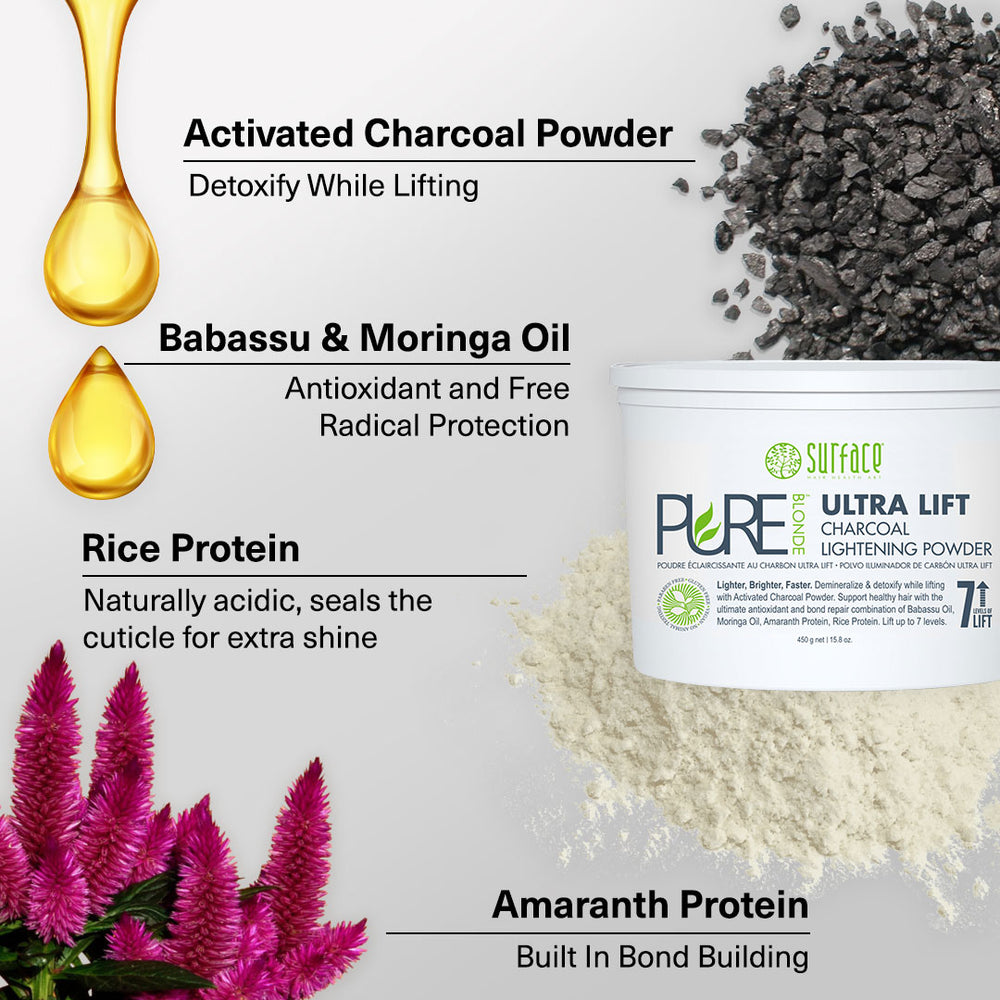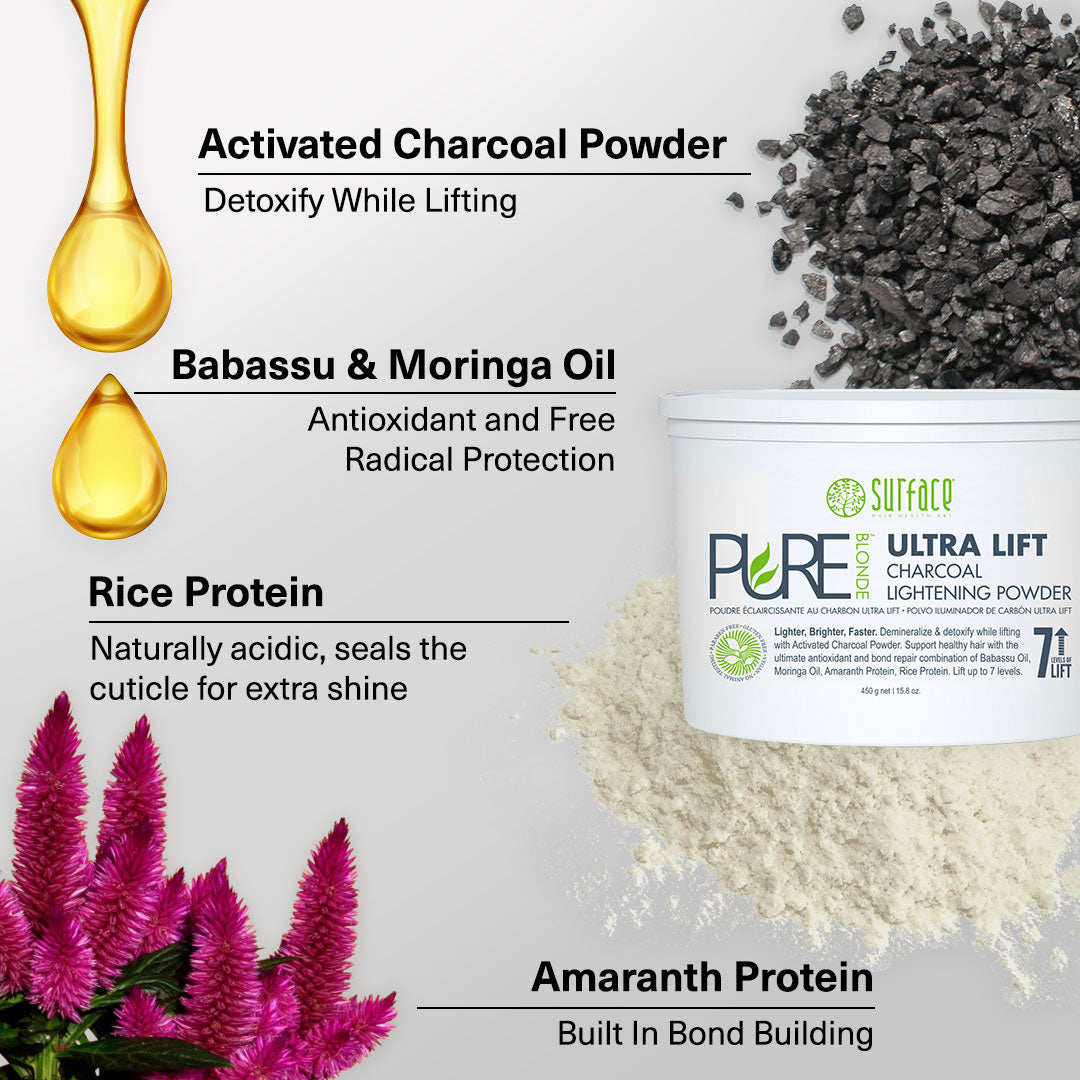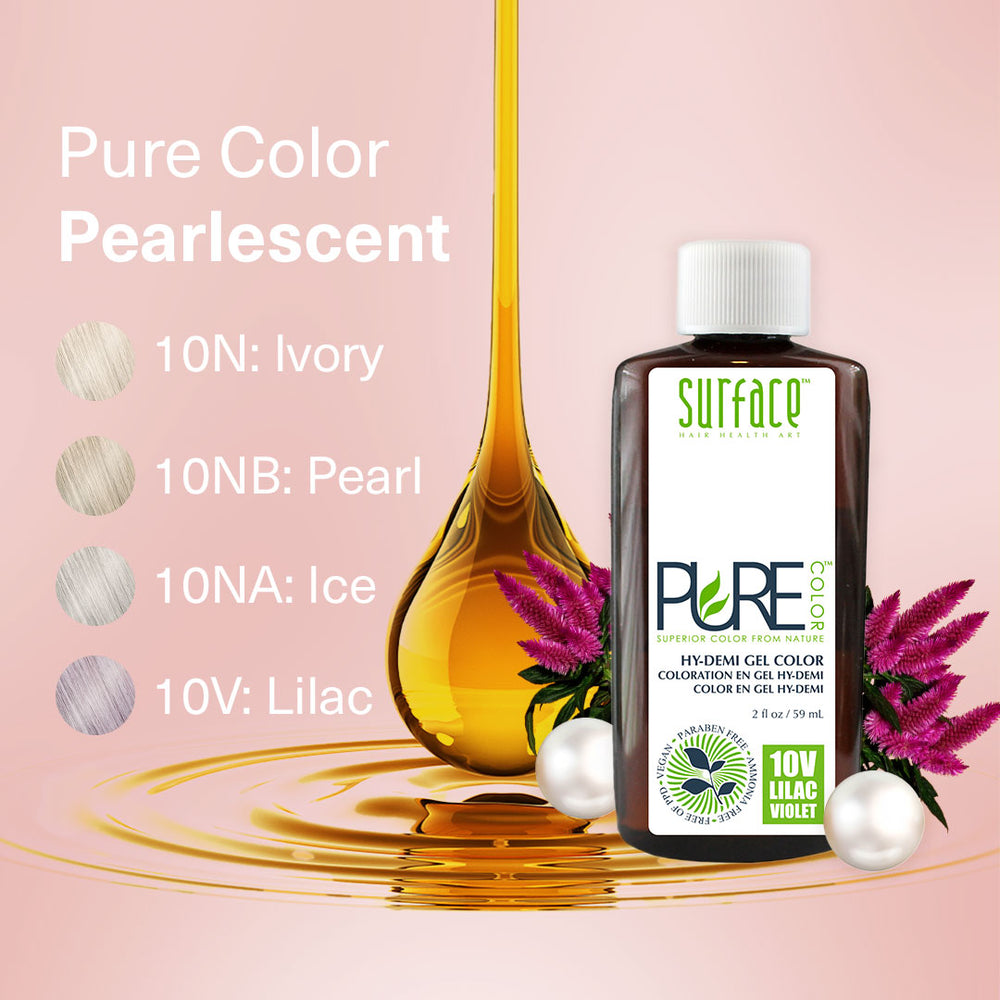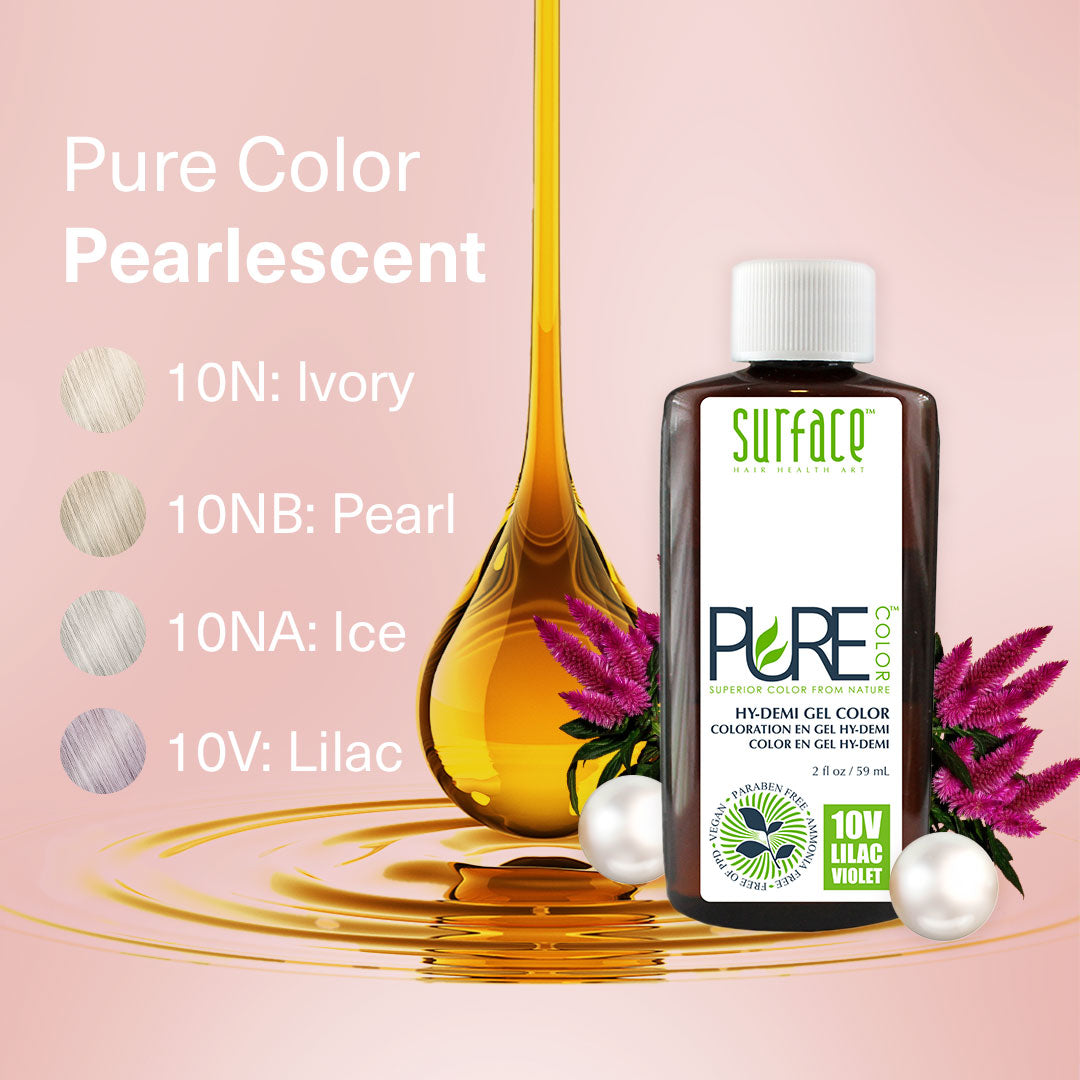 Pearlescent
Level 10 Series

Long lasting tone and color for pale blonde hair. The perfect amount of pigment to tone and color pale blonde hair. With built-in color bonding for long lasting tones.

Babassu Oil delivers color deep into hair.

Amaranth Protein bonds color into the hair.

Antioxidant-rich Moringa Oil protects color and hair against free radicals.
for long lasting tones & healthy hair

Level 10 hair is fragile and porous, and traditional toners will fade quickly. Pure Color Level 10s strengthen and repair the hair, bonding the color into the hair for color longevity and healthier hair. Sulfate, Ammonia, and PPD free.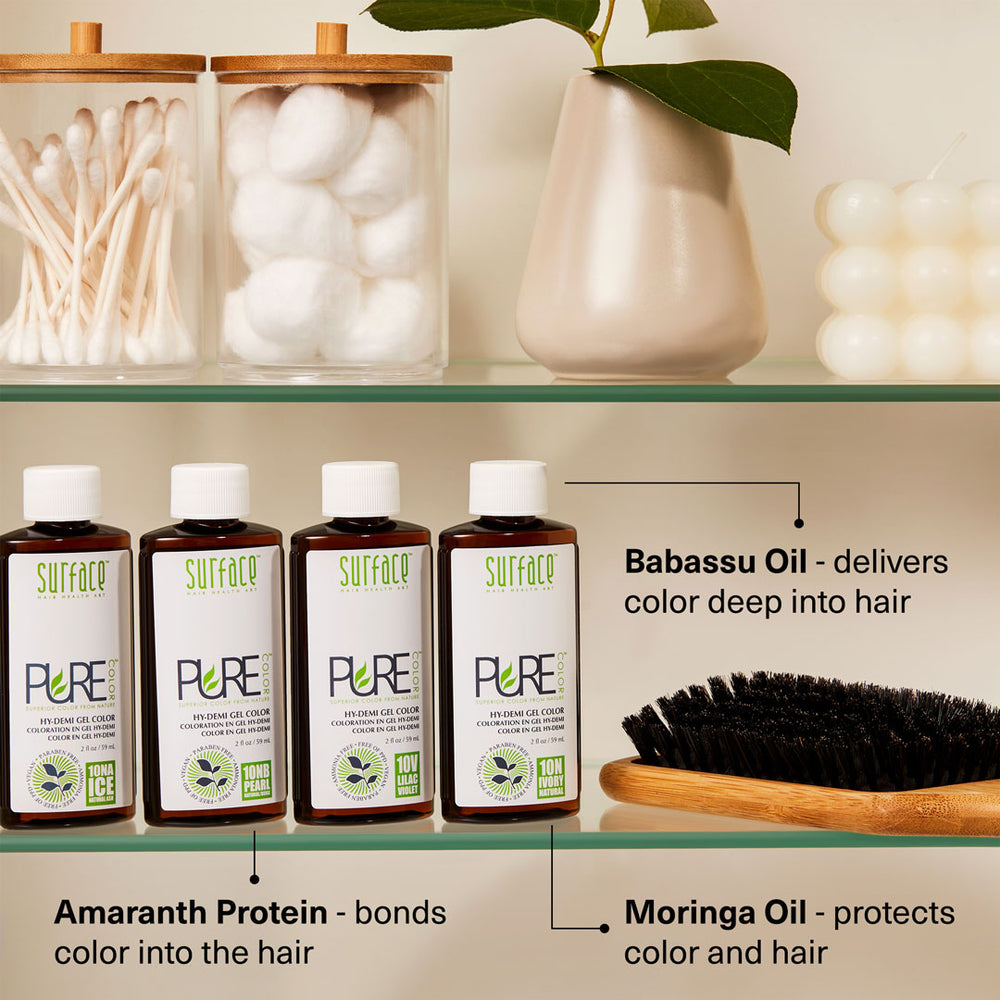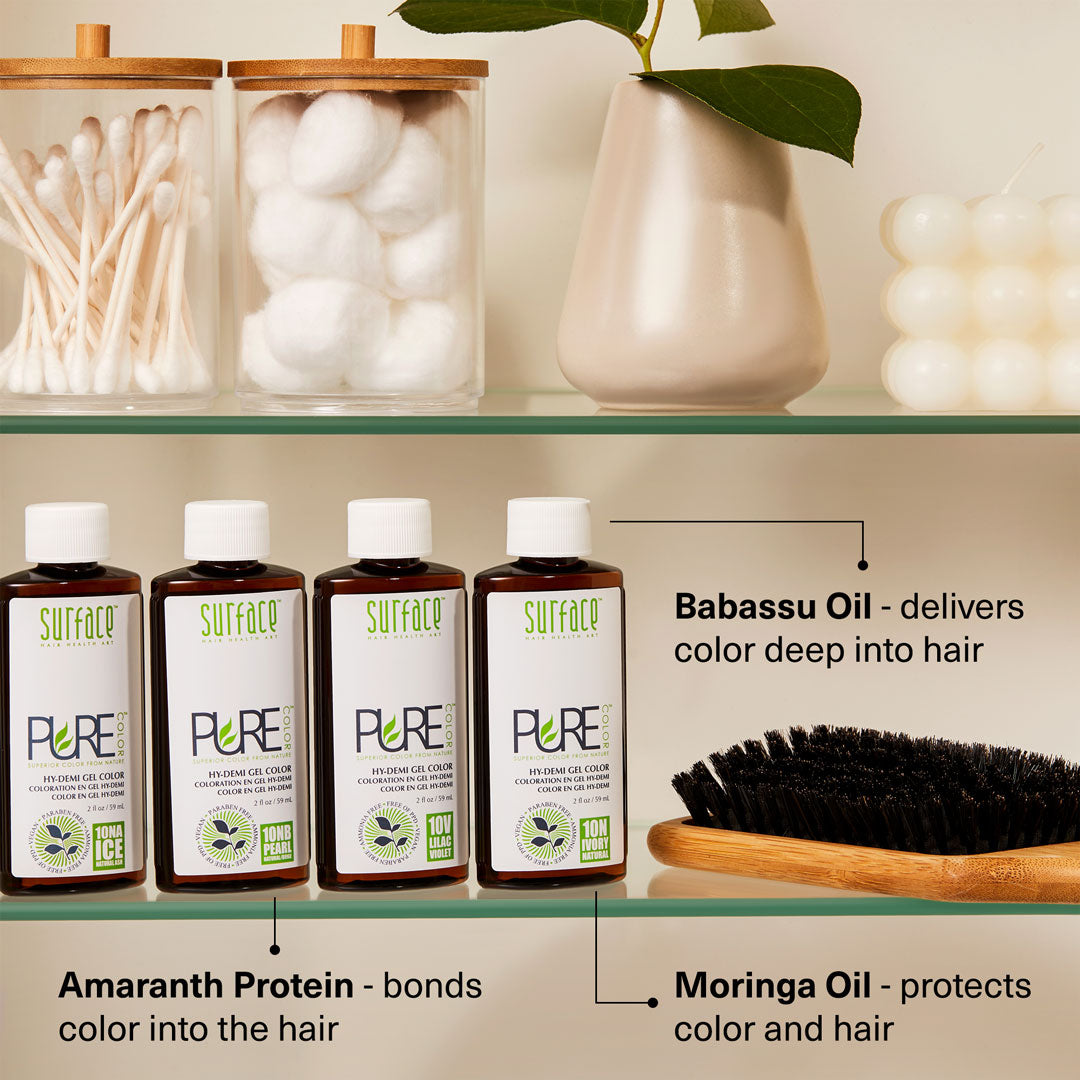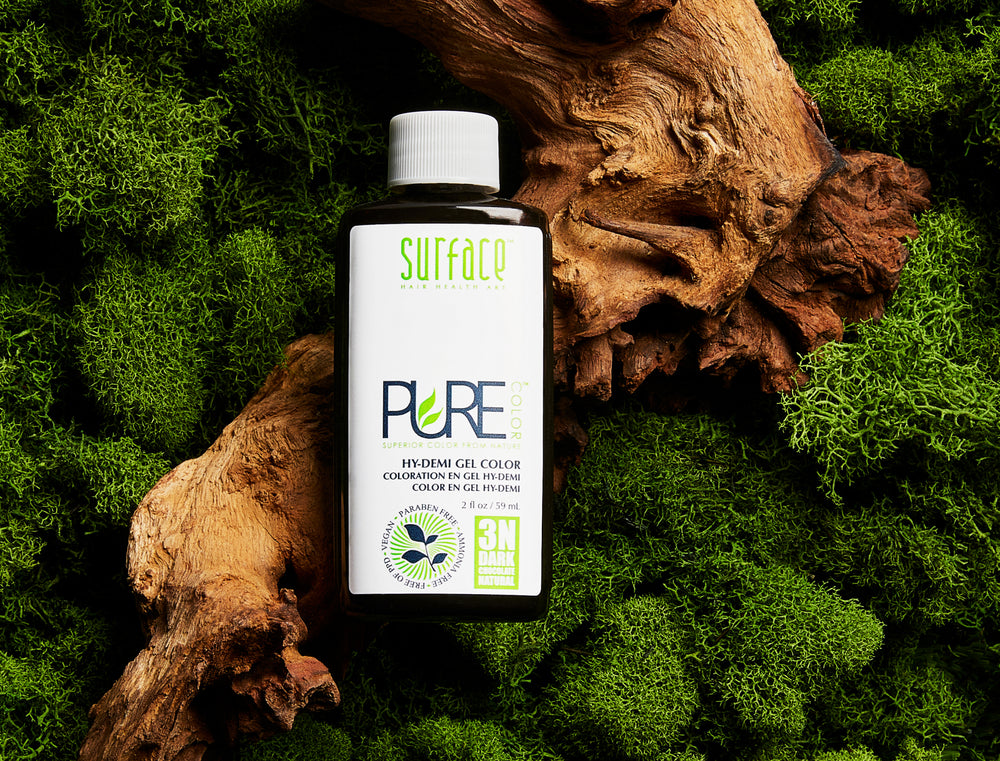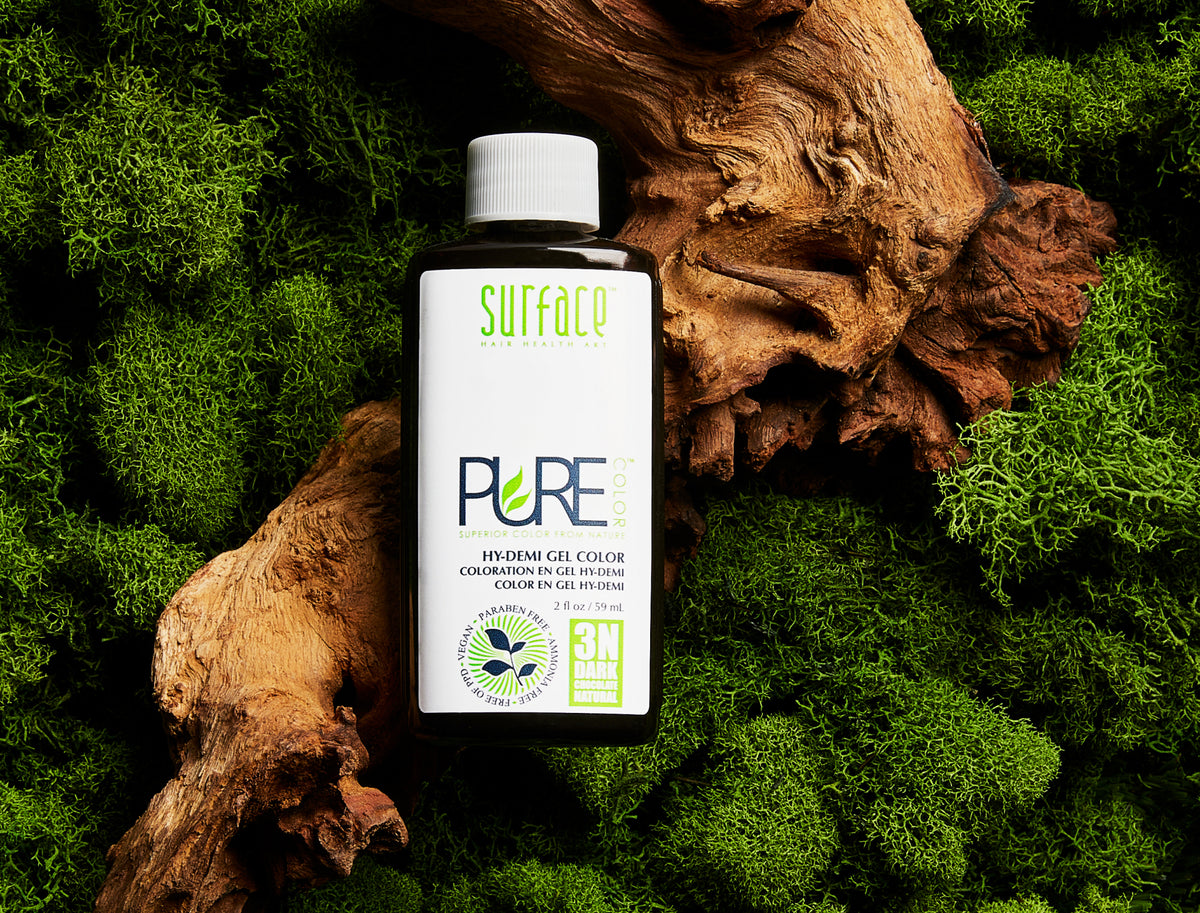 Superior color from nature
Rich, pure, crystalline shine formulated with sustainably harvested ingredients, organic botanicals, and our Color Vita-Complex. Ceramide NP and vitamin antioxidants lock color into and onto the hair, aiding the elimination of free radicals following color services and preventing the oxidation (break down) of color molecules. In combination with Amaranth, these ingredients create the ultimate color locking technology.
Key ingredients
amaranth protein
Re-bond & rebuild hair. Flexible strength. Long-lasting color attachment.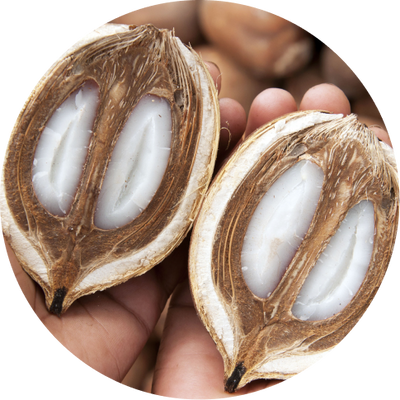 babassu oil
Aids in color attachment & delivery. Antioxidant protection. Intense hydration.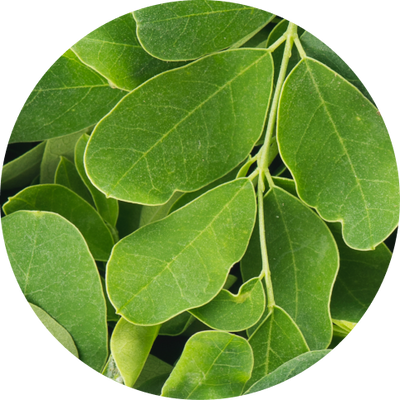 moringa
30 antioxidants, 10 vitamins, 18 minerals, 8 essential, & 10 non-essential amino acids. Assists in re-bonding & rebuilding hair.
ceramide np fruit lipids
Reinforces damaged hair. Maintains moisture balance in hair. Rich in Omega 3, 6, & 9.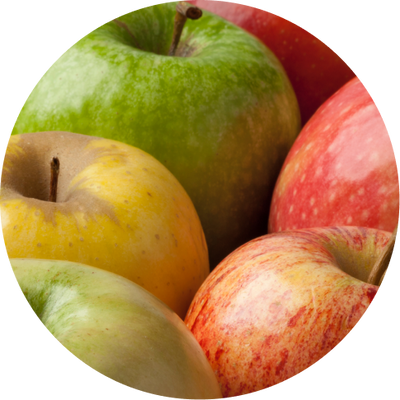 PECTIN
Key ingredient in Enzyme Cream Activator. Clears out free radicals. Optical color clarity & shine. Gentle lift & deposit.
Natural base 'pure color'
Surface Pure Color Natural Series is formulated with equal parts of the three primary colors. The equal balance of red, yellow, and blue provides rich, natural tones. A true neutral base without additional warm or cool tones enables easy formulations, natural gray coverage, and soft tone fading. The natural base allows for easy, complete control.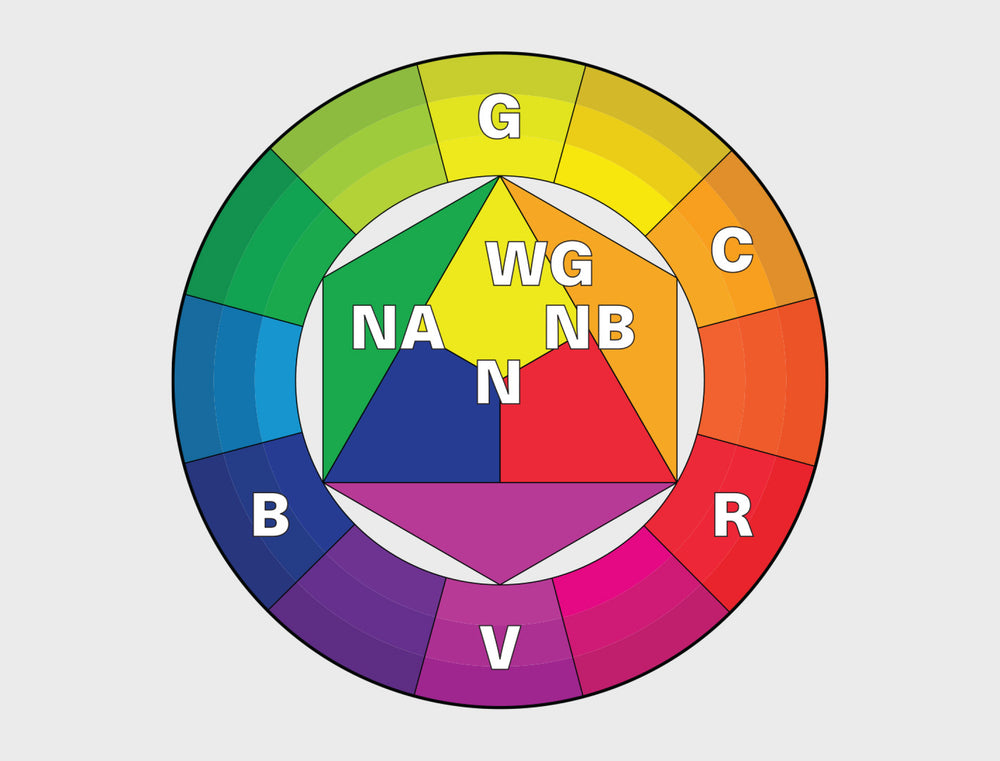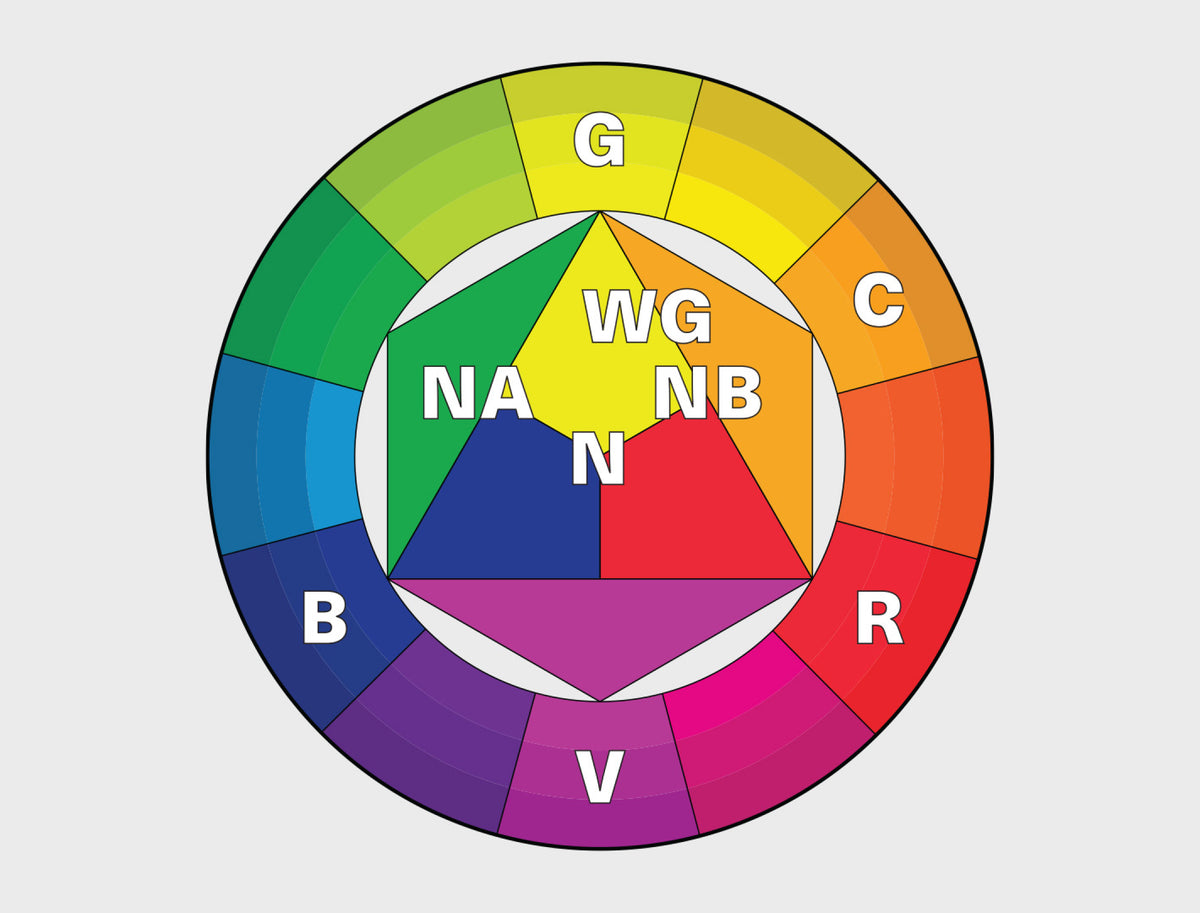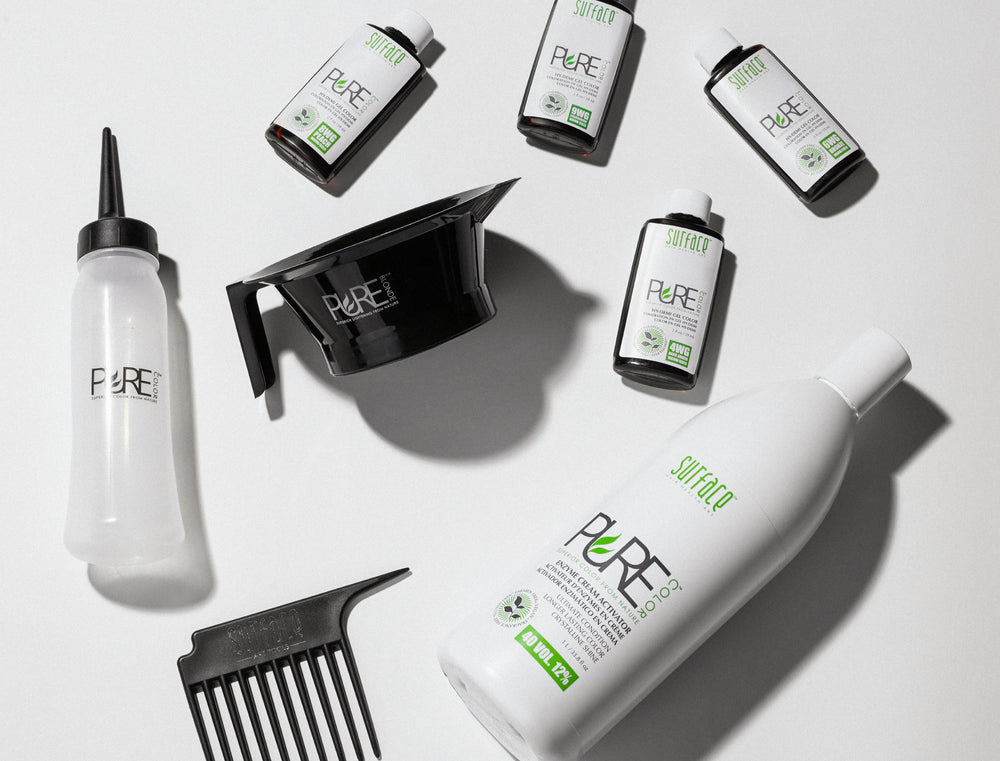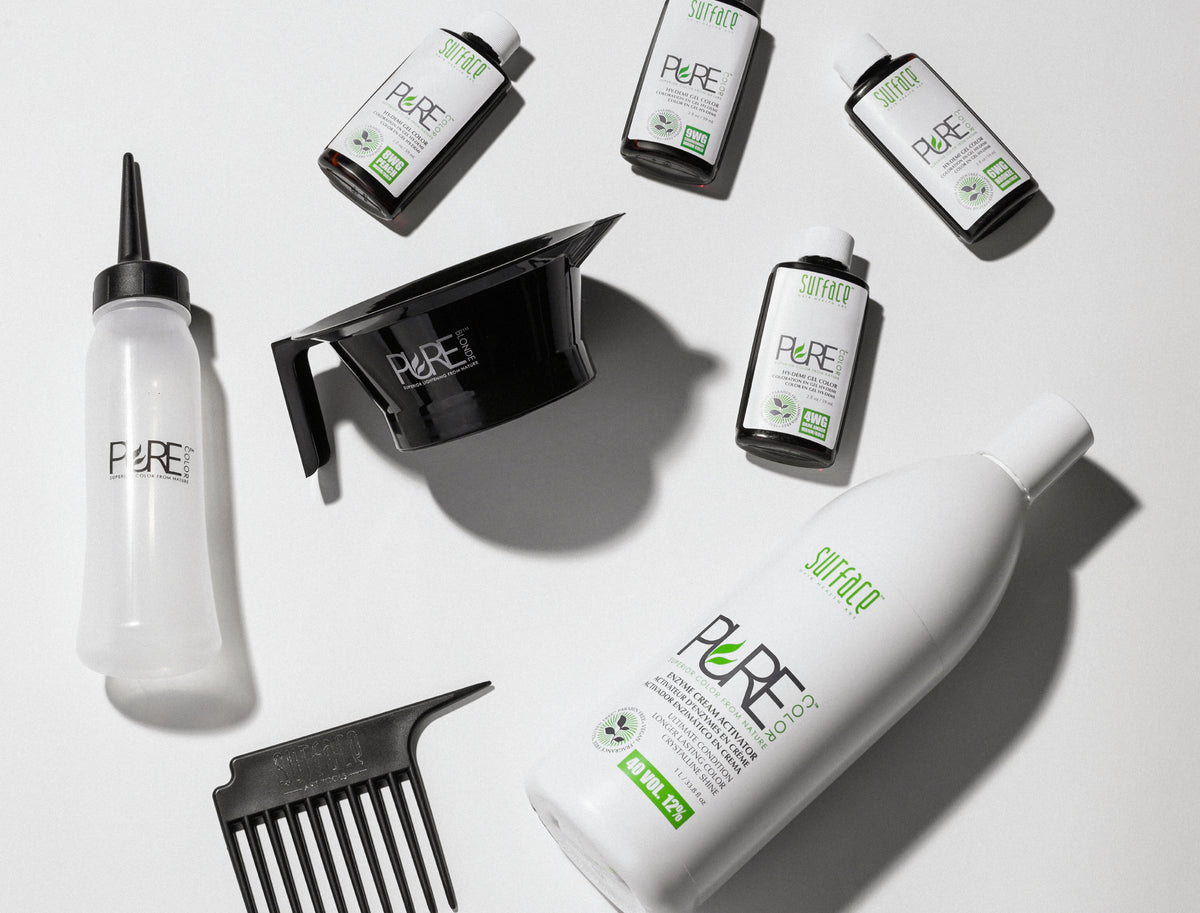 Enzyme cream activators
Maximize the hair's condition and color. Babassu, an organic penetrating oil, carries the pectinase enzymes and Moringa deep into the hair to reduce free radicals and damage which may occur during processing. This cream base activator is rich in the Color Vita-Complex and fruit acids which seal in color and maximize crystalline shine. Amaranth protein actively rebuilds and protects hair.
How it works
Bond Building & Color Attachment: Organic Amaranth
Achieve deep color deposit and on tone lightening. Penetrating Babassu Oil soothes hair during processing while carrying color and oxidizer deep within the hair.
Delivery: Organic Babassu Oil
Amaranth protein rebuilds structural bonds and binds color to the hair's protein. Known as the "Never Fading Flower," Amaranth provides natural UV protection.
Enzyme Cream Activators: Pectinase & Moringa
During processing, ECA provides pectinase enzymes and Moringa with 30+ antioxidants to clear free radicals and align the hair's protein fiber maximizing color deposit and crystalline shin